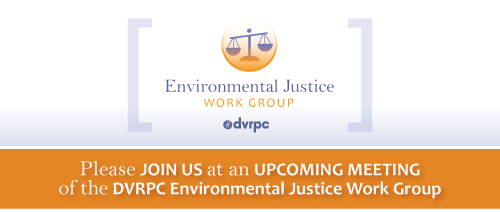 As the metropolitan planning organization (MPO) for the Greater Philadelphia region, DVRPC recognizes that equity, opportunity, and creating a sustainable future for all residents are the core focus of our mission.In the past, DVRPC has identified scenarios that could impact the Greater Philadelphia region in the years ahead. Now we're doing it again! Please plan to join us on May 8th to add your input to future scenario planning that is a step toward developing DVRPC's next long-range plan. DVRPC staff will present our thinking and we hope that you will respond with your concerns and ideas. We're working to identify future drivers of change and potential regional projects that may impact transportation, land use, the environment, and economic development.
If you have an interest in the future of this region,
then you should have a seat at the table!
May 8, 2014 | Breakfast: 8:45 AM
Meeting: 9:00 AM - 10:30 AM
Location: DVRPC Conference Center
190 N. Independence Mall West, 8th Fl. | Philadelphia, PA 19106
RSVP to Jane Meconi, Public Involvement Manager
jmeconi@dvrpc.org or 215-238-2871
More information on scenario planning:
The Future of Scenario Planning
More information on DVRPC's Long-Range Plan:
www.dvrpc.org/LongRangePlan



The Delaware Valley Regional Planning Commission (DVRPC) fully complies with Title VI of the Civil Rights Act of 1964, the Civil Rights Restoration Act of 1987, Executive Order 12898 on Environmental Justice, and related nondiscrimination statutes and regulations in all programs and activities. DVRPC's website, www.dvrpc.org, may be translated into multiple languages. Publications and other public documents can be made available in alternative languages and formats, if requested. DVRPC public meetings are always held in ADA-accessible facilities and in transit-accessible locations when possible. Auxiliary services can be provided to individuals who submit a request at least seven days prior to a meeting. Requests made within seven days will be accommodated to the greatest extent possible. Any person who believes they have been aggrieved by an unlawful discriminatory practice by DVRPC under Title VI has a right to file a formal complaint. Any such complaint may be in writing and filed with DVRPC's Title VI Compliance Manager and/or the appropriate state or federal agency within 180 days of the alleged discriminatory occurrence. For more information on DVRPC's Title VI program, or to obtain a Title VI Complaint Form, please call (215) 238-2871 or email public_affairs@dvrpc.org.